This panel will discuss issues related to the body of the artist in the aftermath of the performance. Much has been said about the difficulty of preserving performance, an ephemeral medium that resists being transformed into a lasting and permanent form. But what about the performer's body: Can it be suspended in time forever? Can we prevent its aging and ultimately decaying or delay its inevitable mortality? The panel is in conjunction with the exhibition It is My Body by Belgrade-born artist Marta Jovanović on view at Location One. Panelists are Rebecca Schneider, Professor and Chair of the Department of Theatre Arts and Performance Studies at Brown University, Kathy Battista, Director of Contemporary Art at Sotheby's Institute of Art, New York, and artist Marta Jovanović. It will be moderated by Claudia Calirman, Chief Curator at Location One.
Participants:
Rebecca Schneider is Professor and Chair of the Department of Theatre Arts and Performance Studies at Brown University. She is also an affiliate Professor in the Department of the History of Art and Architecture at Brown. She is the author of The Explicit Body in Performance, l997, and Performing Remains: Art and War in Times of Theatrical Reenactment, 2011. She is co-editor of Re:Direction, an anthology on 20th-century Western directing theories and practices and the author of numerous essays on performance and visual culture including "Solo Solo Solo," "Hello Dolly Well Hello Dolly: The Double and Its Theatre," and "What I Can't Recall." Among other editorial associations, she is a Consortium Editor of TDR: A Journal of Performance Studies.

Kathy Battista is Director of Contemporary Art at Sotheby's Institute of Art, New York and Senior Research Fellow of the Centre for Global Futures in Art, Design and Media at the Winchester School of Art University of Southampton. She is author of Re-negotiating the Body: Feminist Artists in 1970s London (IB Tauris, 2012) and the forthcoming New York NewWave (IB Tauris 2014). She is also coauthor of Art New York (ellipsis, 2000) and Recent Architecture in The Netherlands (ellipsis, 1998). Her essays have appeared in the following edited collections: Ladies and Gents: Public Toilets and Gender (Temple University Press, 2009); Arcade: Artists and Placemaking (Black Dog, 2006); Surface Tension: Supplement 1 (errant bodies, 2006) and Surface Tension: Problematics of Site (errant bodies, 2003); as well as many exhibition catalogues. Kathy is a regular contributor to the journals Art Monthly, Art Untitled, The Brooklyn Rail and RES Art World as well as Phaidon's Agenda.

Marta Jovanović has received her BA from Tulane University in 2001 after attending Scuola Lorenzo de Medici in Florence. She has exhibited in venues such as the Museo Pietro Canonica and Museo della Civiltà Romana in Rome and at Location One.

Claudia Calirman is the Chief Curator of Location One. She is Assistant Professor of Art History at John Jay College of Criminal Justice, New York, and the author of Brazilian Art under Dictatorship: Antonio Manuel, Artur Barrio, and Cildo Meireles (Duke University Press, 2012).
Location One is extremely grateful to The NY State Council on the Arts and The New York City Department of Cultural Affairs.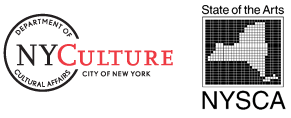 ABOUT LOCATION ONE
Based in the Soho arts district of New York, Location One is an independent, non-profit organization dedicated to fostering new forms of creative expression and cultural exchange through exhibitions, residencies, performances, public lectures and workshops. Traditionally focused on technological experimentation and new media, Location One's residencies and programs have favored social and political discourse and dialogue, and acted as a catalyst for collaborations. With a unique environment providing individualized training, support, and guidance to each artist, as well as exposure for their creations and collaborations, Location One continues to nurture the spirit of experimentation that it considers the cornerstone of its mission.