Two Talks in Celebration of
PAJ's 100th Issue
Tuesday, January 24, 2012 7pm - BELIEF
Wednesday, January 25, 2012 7pm - BEING CONTEMPORARY
Location One is proud to host two evenings of talks to celebrate the 100th issue of PAJ: A Journal of Performance and Art, the influential arts publication founded in 1976. This special issue, titled "Performance New York," features contributions by several generations of artists, curators, critics, and presenters working in the downtown arts community. For two evenings, January 24 and January 25, 2012, several of the contributors to PAJ 100 will present their response to two of the main themes of the issue, "Belief" and "Being Contemporary." Bonnie Marranca, co-founder and editor of PAJ, will moderate the discussions.
January 24: Belief
In a world where so many values—social, artistic, political, religious, cultural, economic—have been questioned and contested in this era of great transformation on a global scale, what do you still believe in? Numerous books and essays have clustered around "the end of …" or "post- … perspectives after a century of turmoil in every sphere of life on every continent. Previously sacrosanct beliefs have been turned upside down. Against this background, artists and intellectuals have continued to rethink their relationship to legacies and to the public, to explore new processes and materials, and to find meaning in personal struggle. What are your strongest beliefs in relation to your work in the world? How do these beliefs inform your work?
with:
Barbara Hammer, filmmaker
Gregory Whitehead, writer and radio producer
Alison Knowles, Fluxus artist and performer
George Quasha, poet and visual artist
Lenora Champagne, performer and writer
Mac Wellman, playwright
January 25: Being Contemporary
One of the essential concerns of visual art, performance, and critical thought is the idea of the "contemporary" or the "new." We are part of an era that had cast forth great themes, and complex ways of organizing society and culture, while also being challenged by many received ideas. How does one take the measure of one's work in the zeitgeist of the times? What makes a performance, a play, a piece of music, or an essay contemporary? What does the search for the contemporary or the innovative mean to the arts and to the public today? How is it recognized or understood? Consider your own work, or another artist's work, in this context.
with:
Joan Jonas, visual artist and performer
Linda Weintraub, curator and writer
Martha Wilson, visual artist and curator
Claire Bishop, art historian and critic
Kenneth Collins, theatre director




Location One is extremely grateful to The NY State Council on the Arts, The New York City Department of Cultural Affairs, The Asian Cultural Council, The Hasselblad Foundation, The Calouste Gulbenkian Foundation, the Luso American Foundation, the Danish Arts Agency, The Arts Council / An Chomhairle Ealaíon, Polish Cultural Institute in New York within its Poland-U.S. Artists-In-Residence Exchange Program, organized by a-i-r laboratory at the Centre for Contemporary Art Ujazdowski Castle in Warsaw, Poland and Location One in New York, with generous support of the Trust for Mutual Understanding, and Location One's International Committee for making these events possible.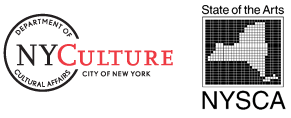 ABOUT LOCATION ONE
Based in the Soho arts district of New York, Location One is an independent, non-profit organization dedicated to fostering new forms of creative expression and cultural exchange through exhibitions, residencies, performances, public lectures and workshops. Traditionally focused on technological experimentation and new media, Location One's residencies and programs have favored social and political discourse and dialogue, and acted as a catalyst for collaborations. With a unique environment providing individualized training, support, and guidance to each artist, as well as exposure for their creations and collaborations, Location One continues to nurture the spirit of experimentation that it considers the cornerstone of its mission.