Please join us on Wednesday, January 30 for the first public screening of a new film project by composer Raz Mesinai. In 2012, equipped with sound recording devices, speakers, percussion and cameras, co-producer, Jonathan Uliel Saldhana, camera man, José Roseira, percussionist, Gustavo Costa, and Raz Mesinai, go deep inside one of the oldest underground mines in all of Europe, dating back thousands of years.
After descending hundreds of feet beneath the earth, they begin to encounter paranormal sounds, which they spend weeks recording, finding themselves lost in a labyrinth, surrounded by mysterious sounds and no way out.
Incorporating footage and sound recordings from his underground expeditions, Raz Mesinai blurs the line between reality and fiction, creating a dream like narrative of darkness at its darkest.
More information at: location1.org.
Raz Mesinai is a New-York based composer, producer, DJ and sound alchemist, making music at the intersection of Dub and modern composition. Long considered one of the premier innovators behind the New York school of experimental dub/dance music scene in the early nineties he continues to push the envelope, collaborating with such pioneers in diverse genres from Kode9, Shackleton and Meat Beat Manifesto to John Zorn and The Kronos Quartet.
Location One is extremely grateful to The NY State Council on the Arts and The New York City Department of Cultural Affairs.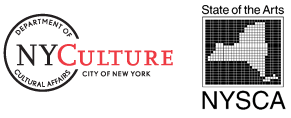 ABOUT LOCATION ONE
Based in the Soho arts district of New York, Location One is an independent, non-profit organization dedicated to fostering new forms of creative expression and cultural exchange through exhibitions, residencies, performances, public lectures and workshops. Location One's residencies and programs have favored social and political discourse and dialogue, and acted as a catalyst for collaborations. With a unique environment providing individualized training, support, and guidance to each artist, as well as exposure for their creations and collaborations, Location One continues to nurture the spirit of experimentation that it considers the cornerstone of its mission.