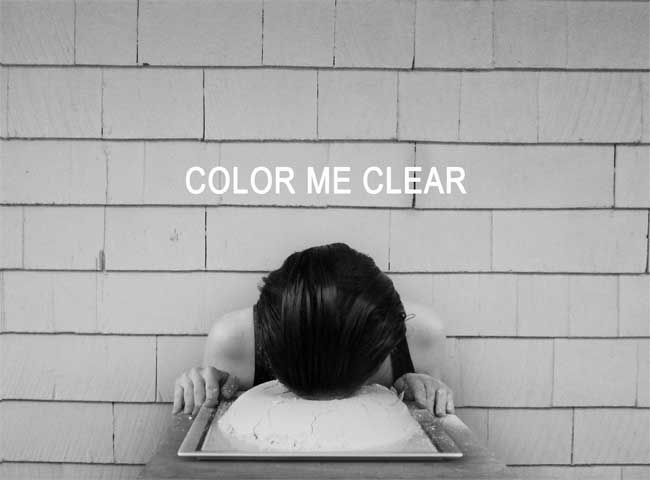 Special Performance at Location One
COLOR ME CLEAR
Durational performance by Elana Katz
Curated by Jovana Stokić

Abramović Studio at Location One

May 19, 2011

3 – 6 pm: the artist works in solitude
6 – 9 pm: performance is open to the public
Location One is proud to present COLOR ME CLEAR, a new work by Berlin- / New York-based performance artist Elana Katz.
COLOR ME CLEAR is a durational performance that examines the cross-cultural practice of painting the face, and blurs the distinction between painting and live art. The artist paints her face heavily with make-up and then transfers it to another surface, repeatedly. The action challenges the capability of the face as it must serve as a medium both to receive and transfer the paint.
The performance begins in a private context. As the artist works in a contained space, the audience is absent. The performance will then move into direct contact with the public, and the audience will be led to participate in an intimate way.
This performance work was made possible, in part, by Franklin Furnace Archive, and, in part, by public funds from the New York City Department of Cultural Affairs in partnership with the City Council. Major support of the Franklin Furnace Fund was provided in 2010-11 by the Lambent Foundation Fund of Tides Foundation.
Elana Katz is an American artist currently based in Berlin and New York. Her work most often confronts cultural conventions, critically examining the complexity that lies within contradictions, and thus aiming to create an experience of unlearning the assumed. Her recent grants have included the DAAD Graduate Studies Grant (2010) and the Franklin Furnace Grant for Performance Art (2011). She participated as a re-performer at Marina Abramovic's retrospective at MoMA in New York, and has exhibited/ performed internationally, including the Freies Museum of Berlin (Germany), Envoy Gallery of New York (USA), Content at Museum of Contemporary Art Tokyo (Japan), and Musée Royaux des Beaux Arts de Belgique (Belgium).
The Marina Abramović Studio is a space within Location One dedicated to the ongoing performance series of long-durational works focusing on open-ended forms of workshops, panels and discussions. It includes resident artists at the Location One as well as a larger community of artists and thinkers interested in the development of performance art as practiced by the pioneer of performance art Marina Abramovic for almost four decades. "The laboratory approach" of the Marina Abramović Studio has the goal of supporting the growth of performance art by promoting the works of emerging artists on an international scale, organizing and collaborating on events using a network of people converging at Location One. It shows the commitment to experimentation across all art forms and points to recent efforts to return performance art to its central position within the gallery system. All programs are curated by Jovana Stokić.
ABOUT LOCATION ONE
Based in the Soho arts district of New York, Location One is an independent, non-profit organization dedicated to fostering new forms of creative expression and cultural exchange through exhibitions, residencies, performances, public lectures and workshops. Traditionally focused on technological experimentation and new media, Location One's residencies and programs have favored social and political discourse and dialogue, and acted as a catalyst for collaborations. With a unique environment providing individualized training, support, and guidance to each artist, as well as exposure for their creations and collaborations, Location One continues to nurture the spirit of experimentation that it considers the cornerstone of its mission.