Location One is proud to present two events this week: Conductivity, an exhibition presenting different perceptions of time and space, And A Dialogue on Time, a conversation with Ana Freitas and scientist Brian Schwartz in conjunction with the exhibition. Conductivity features new works by Ana Freitas, Michaela Müller, Tommy Støckel, and Andrea Yugoslavia Chirinos, who will perform at the opening. The opening reception will take place on Thursday, June 28, from 6–8pm, with Chirinos's dance performances scheduled for 7pm and 7:30pm. The following evening A Dialogue on Time will take place at 7pm. Both events are free and open to the public.
Conductivity looks at how these artists explore distinct ideas of time from a variety of perspectives—systemic, scientific, phenomenological, and experiential. The artists approach time as both transitory and universal, a force that continuously shifts our experience of the environment. Their works act as energy conduits, either evoking a sense of rapid flow through chaotic images and implied movement or conveying a sense of timeless quietude through a systemic and controlled composition. Time is not experienced sequentially or chronologically, but as a prolonged, directionless presence. The works on view abandon the idea of time as random and haphazard in favor of construction, concentration, and intention; although the works are themselves site-specific and temporal, they explore the timeless and constant quality of duration.
A Dialogue on Time will feature a conversation on the subject of time-related issues between artist in residency Ana Freitas and scientist Brian Schwartz. Can art and science inform each other? How can science stimulate artists' imagination? Is time measurable and how can we visualize it? These are some of the questions that this talk will address.
Brian Schwartz is Professor of Physics, Director of the Science & the Arts program, and co- director of the New Media Lab at the Graduate Center of the City University of New York (CUNY). His research is about materials sciences, networks, transportation simulation, and finance. He has edited nine books and has published more than 125 articles in journals. In 2009, he won the American Institute of Physics Gemant Award for "ingenious creativity in engaging the public with the history and cultural aspects of physics and for inventing ways to celebrate physics through such varied vehicles as plays, musicals, exhibitions, street fairs, cabaret, posters, and operas." He has a Ph.D. from Brown University and had taught and conducted research for many years at MIT. He works with artists producing major public programs at the interface between science and theater, art, music, and dance. He currently teaches a popular course on cosmology for non-science major at Brooklyn College.
In the animated installation Location Scouting: Airport, Swiss artist Michaela Müller uses airports as a paradigm for the highly standardized communication of global societies. Her film animations have no specific narrative. Her figures melt into an endless flow of moving images. Müller's hyper-meticulous animation technique, which involves hand-painting each individual frame on glass, gives her films a lush, textured quality that emphasizes the vibrancy of color, the rhythm of brushstrokes, and the gravity, liquidity, and luminosity of paint. Location Scouting is a visual inquiry into the "painted" location of a film animation. Her accompanying installation, called Trial and Error, illuminates facets of her unique process.
Müller was born in St. Gallen, Switzerland. She lives and works in Croatia and in Switzerland. She graduated with an MA in Animation and New Media from the Academy of Fine Arts in Zagreb, Croatia (2009). Müller's acclaimed eight-minute film animation, Miramare (2009), made its international premiere at the 2010 Cannes Film Festival, and has been shown at more than one hundred festivals since that time. It has won eighteen prizes, among them the Grand Prix of Animateka International at the Animation Festival Ljubljana, the Golden Centaur for Best Debut Film at Message to Man Film Festival in St. Petersburg, and the Swiss Film Prize Quartz. In 2011, Miramare was among the thirty films nominated for the European Cartoon d'Or Award. Michaela's residency is made possible by Pierre Nussbaumer, C. und A. Kupper Stiftung, Kulturförderung Kanton Appenzell Ausserrhoden, Kulturförderung Kanton St.Gallen
Danish artist Tommy Støckel's installation Structured Studio Situation (New York) is a sculptural arrangement of approximately 1,500 objects placed directly on the gallery floor, according to a carefully planned composition. The display is based on the repetition of randomly placed elements. Through the replication of a single unit, Støckel creates a tight structure that shifts from an identical pattern into multiple compositions generating a variety of structural possibilities. His work plays with issues of scale, seriality, and repeated randomness—a study in controlled environment and organized chaos. Støckel's sculptural installation for Conductivity, created during his residency at Location One, has the exact dimensions of the artist's studio floor. It aggregates items accumulated by the artist in his studio and objects collected nearby in SoHo, from sculptural models to found materials like chopsticks and Styrofoam cups.
Støckel was born in Copenhagen in 1972, where he attended the Royal Danish Academy of Fine Arts. He is currently based in Berlin. In his preferred medium of sculpture, he explores binary ideas—reality and artificiality, fiction and history, handmade versus digital, minimal and baroque, permanence and temporality. His solo exhibitions include What Already Was and What Could Have Been, at Helene Nyborg Contemporary, Copenhagen; 3 Sculptures, at SMART Project Space, Amsterdam; Simulation & Decoration, at Rena Bransten Gallery, San Francisco; Tommy Støckel's Art of Tomorrow, at Arnolfini, Bristol; From Here to Then and Back Again, at Kunstverein Langenhagen, Langenhagen; and Ist das Leben nicht schön?, at Frankfurter Kunstverein, Frankfurt am Main. Tommy's residency is made possible by the Danish Arts Council.
Ana Freitas's photogram series Dialogue about Time started with an inquiry: What is the nature of time? The work is based on an intense dialogue about time between the artist and cosmologist Mário Novello. The interdisciplinary encounter of arts and science is currently at the center of her artistic investigations. In this cacophonic dialogue, Freitas tries to visually represent a panoply of complex issues related to time and space. Her attempt to illustrate the nature of time based on a scientific discourse underscores the distance between these two worlds, since one language can never be fully translated into the other. Her photograms—photographic images without the use of the camera--are a visual conduit for issues related to the gravitational field, fluidity, matter, cosmic structures, geometry, continuum space, constant movement, density, and endless flow. They hint at the poetic notion of time and space as pure imagination, with its imprecision and endless interpretations. Ana's residency is made possible by the Ministry of Culture of the Brazilian Government, Portas Vilaseca Gallery in Rio de Janeiro.
Freitas lives and works in Rio de Janeiro, Brazil. Time, geometry, nature, and the morphology of the creative process are part of her research universe. Her mediums include drawing, photography, artist's books, printmaking, and sculpture. She had exhibited at Galeria Portas Vilaseca, Solar Grandjean de Montigny Puc-Rio, and Castelinho do Flamengo, Rio de Janeiro. She is represented by Galeria Portas Vilaseca from Rio de Janeiro.
Andrea Yugoslavia Chirinos is a dancer and choreographer based in Mexico City and New York. Her work is influenced by the visual arts, dance, photography, and human attitudes and gestures. Chirinos uses movement to create nonlinear narratives that allow the viewer to experience their own perception of time, focusing on images, sensations, and emotional states. In her dance performance Everything Expires, she explores non-narrative, fragmented perception and distorted lapses of time, combining such disparate elements as humor, movement, and theatrical characters. Everything Expires borrows elements from the Japanese artist Daido Moriyama, a photographer who takes pictures in the Tokyo district of Shinjuku, recording reality but never trying to create a perfect image. Like Moriyama, Chirinos appropriates the raw power of reality, engaging in energetic movement as a gesture of internal desire. In her dance performance, the photographer and her assistant conduct a bodily dialogue about memory and time-related issues.
Chirinos was born in Mexico City, where she studied dance and art history. She moved to New York in 1994. As the director of the Mexico City–based dance company Mitrovica Danza Contemporanea, she has choreographed several works, including Enredos, which won the Mexican National award. She often performs in galleries and museums instead of theaters in order to be closer to the viewer. Chirinos has collaborated with artists such as Martin Creed, Los Super Elegante, and Mario Garcia. Andrea's residency is made possible by The Mexican Cultural Institute of New York and Location One's International Committee.
For press inquiries, please contact Heather Wagner at press@location1.org
Location One is extremely grateful to The NY State Council on the Arts, The New York City Department of Cultural Affairs, Pierre Nussbaumer, C. und A. Kupper Stiftung, Kulturförderung Kanton Appenzell Ausserrhoden, Kulturförderung Kanton St. Gallen, the Swiss Consulate, the Ministry of Culture of the Brazilian Government, Portas Vilaseca Gallery in Rio de Janeiro, The Danish Arts Council, The Mexican Cultural Institute of New York, and Location One's International Committee for making this event possible.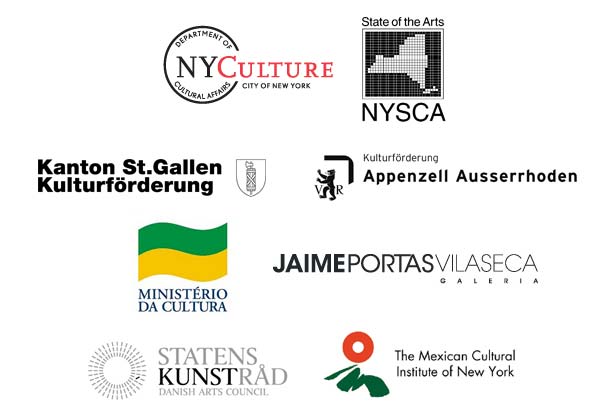 ABOUT LOCATION ONE
Based in the Soho arts district of New York, Location One is an independent, non-profit organization dedicated to fostering new forms of creative expression and cultural exchange through exhibitions, residencies, performances, public lectures and workshops. Traditionally focused on technological experimentation and new media, Location One's residencies and programs have favored social and political discourse and dialogue, and acted as a catalyst for collaborations. With a unique environment providing individualized training, support, and guidance to each artist, as well as exposure for their creations and collaborations, Location One continues to nurture the spirit of experimentation that it considers the cornerstone of its mission.