Phosphene Variations Performance
FLEXORS
Live music by Christopher Lancaster
Wednesday, September 26, 2012
7pm, doors at 6:30pm $10

Location One presents Phosphene Variations, a new video/performance/holography exhibition by New York-based artist Jason Akira Somma. The exhibition features free-floating holograms of several renowned dancers and performance artists—Laurie Anderson, Mikhail Baryshnikov, Joan Jonas, Robert Wilson, and others―in an interactive installation. The exhibition also includes weekly performances by extraordinary group of artists, as well as other performance-focused video works by Somma.
"'Phosphene Variations,' the enchanting mix of live and digitally altered dancing" --Star Ledger (full review)

"Somma's manipulations are wizardly" --Financial Times (full review)
The performance series continues on Wednesday, September 26 with flex dancers FLEXORS. Full performance schedule below.
---
"Flex in Soho!"
Flexing is an East Brooklyn-born dance movement made up of many unique styles from gravity-defying Gliders, to hyper-flexible Bone Breakers and more. We guarantee you've never seen dancers move like this before and invite you to come see this unique one off show of collaboration.
FLEX IS KINGS Trailer http://vimeo.com/35915742
Dancers:
| | | | |
| --- | --- | --- | --- |
| Bones the Machine Hill | Regg Roc Gray (MC) | Scream | Stepz |
Wednesday, Sept 12th – Frances Wessells, Leslie Kraus
Wednesday, Sept 19th – Kira Rae Blazek, Burr Johnson
Wednesday, Sept 26th – Flexors
Wednesday, Oct 10th- Dirty Martini, Julie Atlas Muz, Monstah Black
Wednesday, Oct 17th – Brian Brooks
Wednesday, Oct 24th – Jeanine Durning, Manelich Minniefree
Thursday, Nov 8th – Susan Marshall & Company, Bill Shannon, Vanessa Walters
Thursday, Nov 15th – Phosphene Redux & Closing Party (Various artists who performed earlier in the season return to present short excerpts)

For more information about Phosphene Variations and the upcoming performance series, please go to location1.org.


Location One is extremely grateful to The NY State Council on the Arts, The New York City Department of Cultural Affairs and Location One's International Committee for making this event possible.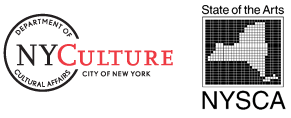 ABOUT LOCATION ONE
Based in the Soho arts district of New York, Location One is an independent, non-profit organization dedicated to fostering new forms of creative expression and cultural exchange through exhibitions, residencies, performances, public lectures and workshops. Location One's residencies and programs have favored social and political discourse and dialogue, and acted as a catalyst for collaborations. With a unique environment providing individualized training, support, and guidance to each artist, as well as exposure for their creations and collaborations, Location One continues to nurture the spirit of experimentation that it considers the cornerstone of its mission.