Location One Performance Program Public Workshop
Fall/Winter 2011
Tuesday, October 4, 2011 at 6:30 pm
Conversation with Sandra Skurvida and resident artists
We invite you to join us: Monthly workshops, presided over by Jovana Stokic, Location One's curator of Performance Art, invite guest artists, critics and curators to work with the community of artists-in-residence at Location One. They provide a lively interaction and often suggest projects or collaborations that might be explored for presentation at the gallery. This month the topic addressed will be Collecting, Curating and Conserving; the guest curator will be Sandra Skurvida.
Sandra Skurvida is an independent curator and scholar based in New York City. Her research interests include performance art, transmedia, and politically engaged art practices. She received her PhD from Stony Brook University in 2006; and taught at the Center for Curatorial Studies, Bard College; Parsons The New School University; FIT-SUNY; School of Visual Arts; and Museum of Modern Art, among other institutions. Her curatorial projects are catalyzed by social situations and interdisciplinary approaches: OtherIS (2011-ongoing) is a curatorial platform and online database of video art focused on the US-sanctioned countries; Avant-Guide to NYC (apexart, 2009) addressed the absence of historical referents in the public space and their discursive afterlife; Custom Car Commandos (Art in General, 2009) dealt with visual reflections of the crisis in the auto industry; Soap Box Event by Pia Lindman (Federal Hall National Memorial, 2008) practiced performative aspects of free speech; several public art projects in New York City (Art Container, 2002; Waste Management by Alex Villar, 2005) highlighted specific aspects of the public space; and the Third Annual Exhibition of Soros Center for Contemporary Art in Vilnius, Lithuania (1995) was produced in the post–Cold War conditions at the emergence of global networks.
Location One is extremely grateful to The NY State Council on the Arts, The New York City Department of Cultural Affairs, and Location One's International Committee for making this event possible.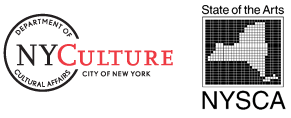 ABOUT LOCATION ONE
Based in the Soho arts district of New York, Location One is an independent, non-profit organization dedicated to fostering new forms of creative expression and cultural exchange through exhibitions, residencies, performances, public lectures and workshops. Traditionally focused on technological experimentation and new media, Location One's residencies and programs have favored social and political discourse and dialogue, and acted as a catalyst for collaborations. With a unique environment providing individualized training, support, and guidance to each artist, as well as exposure for their creations and collaborations, Location One continues to nurture the spirit of experimentation that it considers the cornerstone of its mission.