Phosphene Variations Performance
Miss Dirty Martini, Julie Atlas Muz, Monstah Black
Wednesday, October 10, 2012
7pm, doors at 6:30pm $10
Performance curator: Luke Miller

---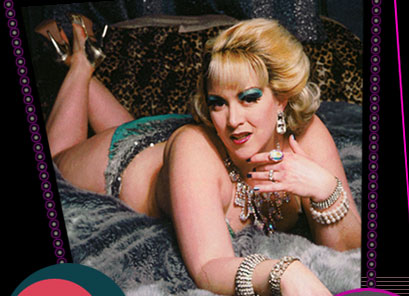 Miss Dirty Martini Miss Exotic World 2004, The International Burlesque Sensation, Miss Dirty Martini, is one of the most recognized names in new burlesque. Miss Martini has delighted audiences with her Fan Dance, Balloon Striptease, Dance of the Several Veils, Shadow Strip and other classic burlesque revivals. She has won the Sally Rand Award for her performance at the Exotic World Museum in CA.
Dirty will be performing some of her favorite acts.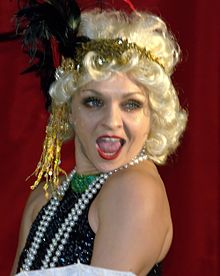 Julie Atlas Muz, one of the most acclaimed and prolific conceptual performers and choreographers in New York, sucker punches the boundaries between performance art, dance and burlesque with dark, twisted, come-hither performances that have secured her place in the underworld of nightlife as well as the bastion of the art world. On any given night in New York City, you can see Julie Atlas Muz peeling off the outlandish costumes she dons, covered in fake blood in the basement of a gay bar or co-hosting America's Favorite Burlesque Gameshow This or That! on public access–in essence, expressing her bawdy, irreverent and unexpected sense of humor. Muz has presented her work at P.S. 122, HERE, The Performing Garage and Art at St. Anne's Warehouse, chashama, LaMama, The Kitchen, and Dixon Place. Late at night you can see Julie Atlas Muz perform regularly in New York at the all the right locations. Muz has been awarded Artist- in-Residency status from Chashama (2002), Joyce Soho (2001), Mondo Conne Artist-in-Residency at Dixon Place (2000) and Movement Research Artist-in-Residence (1998-99). 2004 Whitney Biennial Artist and a 2005 Valencia Bienal Artist.
Julie will be performing some of her favorite Burlesque acts.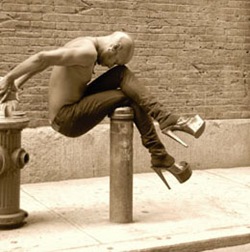 Monstah Black, a new York based artist (singer, songwriter, musician and choreographer), known for his stage performances that blur the lines of genre and gender. Born and raised in historical Colonial Williamsburg, Virginia, Monstah was exposed at birth to not only the pulpit rocking sounds of the southern Baptist Church and the classical sounds of Roman Catholic Church but also Soul, R&B, Rock, Funk and Disco. His aesthetic reflects this upbringing revealing influences of Prince, David Bowie, and Sylvester. Monstah holds an M.F.A in New Media Art and Performance from Long Island University and is currently an artist in residence at Dance New Amsterdam.
Monstah Black will be improvising live with movement and singing a selection from his show Submerged In Blue of 2010.
---
Location One is extremely grateful to The NY State Council on the Arts, The New York City Department of Cultural Affairs and Location One's International Committee for making this event possible.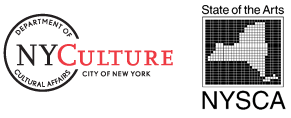 ABOUT LOCATION ONE
Based in the Soho arts district of New York, Location One is an independent, non-profit organization dedicated to fostering new forms of creative expression and cultural exchange through exhibitions, residencies, performances, public lectures and workshops. Location One's residencies and programs have favored social and political discourse and dialogue, and acted as a catalyst for collaborations. With a unique environment providing individualized training, support, and guidance to each artist, as well as exposure for their creations and collaborations, Location One continues to nurture the spirit of experimentation that it considers the cornerstone of its mission.