New Work by André Feliciano, Everett Kane, Nuno Henrique
October 25-December 1, 2012
Opening Reception Wednesday, October 24, 6-8pm
Curated by Claudia Calirman
Location One is proud to present a new group exhibition consisting of handmade artworks constructed to evoke emotional response. The pieces on view draw on a nostalgic past to propose a better future. The show features work by André Feliciano, Everett Kane, and Nuno Henrique. These artists explore how art can use feelings and emotions to reassert itself in a world saturated by technological processes.
The exhibition will be on view at Location One from October 25 to December 1. The opening reception will take place on Wednesday, October 24, from 6-8pm.
André Feliciano considers himself an art gardener. His utopian view of the world can be better understood by his concept of "Floraissance Art," which mixes the words "flora" and "renaissance" and calls for a postmodern return to arcadia. Feliciano uses words like sprouting, cultivating, and gardening in his artistic practice. His colorful, artificial garden made out of resin-based flowers and dirt is majestically beautiful and leads us to an inner state of calm and contentment. Why not extend these feelings to our present condition so that we can start building a better future?
Feliciano, born in 1984, in São Paulo (Brazil), has exhibited at Photoville (New York, 2012), Bonni Benrubi Gallery (New York, 2011), and the Museum of Modern Art of São Paulo (2010), among other venues. His work has been featured in the New York Times online, Time magazine's photography blog, and the blog of the International Center of Photography. He is part of the upcoming exhibition Festival of Art and Gastronomy at the Museum of Modern Art of São Paulo (November 2012). More information can be found at his blog, http://blog.natureza.art.br/.
Everett Kane's drawings, photographs and digital paintings are the work of a highly skilled draftsman interested in a range of expressionistic emotions. Kane's constant and incessant artistic production (there are over 25,000 pages of drawings in his apartment) is posted daily on Facebook. According to Kane, "the work exists in the gaps between something technical and something emotive, something schematic and something finished." He sees the creation of his images as performative acts. His largely biographical lonely figures and inner abstract landscapes reveal an artist whose work flows freely and fully at its own fast pace with all of its contradictions. When grouped together, his art looks like clusters of small exhibitions enclosed in themselves.
Kane, born in 1971, is based in New York City. He graduated from Princeton University and the Art Center College of Design. He teaches fine art, digital media, 3-D animation, and drawing at Pratt Institute, the School of Visual Arts, and the New School.
Nuno Henrique's work is based on accounts of botanical species, the result of his contact with the indigenous forest on his native island, Madeira, in Portugal. The forest only survives in the most inaccessible parts of the island, today occupying a very small part of the territory. His work is an indexical trace of this absence, although it is less about the species therein and more about exploring the field of botany, which is infinitely connected to all aspects of life. He approaches the extinction of the land and its species, largely the result of neo-colonial practices, with emotion and nostalgia. His large paper cast drawing is based on a technique developed by archaeologists in the 19th century. On view at Location One is The tree from which canoes are made, a monument that refers to the North American tulip tree, used by Native Americans to build dugout canoes from the bark.
Born in 1982, Madeira Island (Portugal), Nuno Henrique studied sculpture at FBAUP (Faculty of Fine Arts), University of Porto, and attended the Individual Project study program at Ar.Co (Lisbon). He has participated in a number of exhibitions, including Linha de Partida (Madeira, 2009), Forty Paper Casts (Módulo Art Gallery, Lisbon, 2010), "The old Dragon Tree that existed in Ponta do Garajau fell down into the sea during heavy rains from southeast, occurred during the autumnal equinox of 1982", Porta 33, Madeira, 2010, and As Saudades da Terra (Módulo Art Gallery, Lisbon, 2012). He has been awarded grants from the National Cultural Centre (CNC, Lisbon, 2011), Porta 33 (Funchal, 2009 and 2010) and Fundacion Botin (Santander, 2012) and is currently a resident at Location One with a grant from the Calouste Gulbenkian Foundation and the Luso-American Foundation.
Location One 26 Greene Street (between Canal & Grand Sts.) New York, NY 10013
Gallery Hours: Tuesday-Saturday 12-6pm
Subway: Canal St (N-Q-R; 6; A-C-E; J-Z)
Location One is extremely grateful to The NY State Council on the Arts, The New York City Department of Cultural Affairs and Location One's International Committee for making this event possible.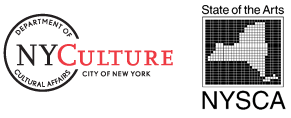 ABOUT LOCATION ONE
Based in the Soho arts district of New York, Location One is an independent, non-profit organization dedicated to fostering new forms of creative expression and cultural exchange through exhibitions, residencies, performances, public lectures and workshops. Location One's residencies and programs have favored social and political discourse and dialogue, and acted as a catalyst for collaborations. With a unique environment providing individualized training, support, and guidance to each artist, as well as exposure for their creations and collaborations, Location One continues to nurture the spirit of experimentation that it considers the cornerstone of its mission.