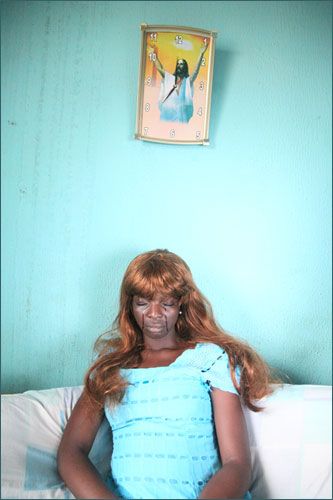 An exhibition conceived by AfricaLab
Co-curated by James Lindon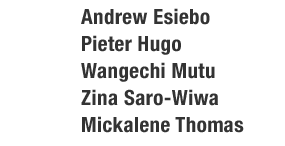 Dates: November 5, 2010–January 22, 2011
Opening Reception: Thursday, November 4, 2010 6–8pm
Free and Open to the Public
Hours: Tues-Sat 12-6pm
AfricaLab and Location One present Sharon Stone in Abuja, an exhibition that explores and re-imagines "Nollywood" – i.e. the Nigerian video film industry. The show, which includes works by Wangechi Mutu, Pieter Hugo, Mickalene Thomas, Andrew Esiebo and Zina Saro-Wiwa, reimagines the visual conventions of Nollywood film-making and explores the emotional landscape of Nigeria and Africa. Co-curated by filmmaker and AfricaLab founder Zina Saro-Wiwa and James Lindon of Pace Gallery, the show is open to the public from 5th November 2010 through the 22nd of January, 2011. The show's opening comes at the start of Nigeria's 50th Anniversary of Independence - an opportune moment to reflect on the country in a fresh way.


First there was Hollywood, then there was Bollywood and now there is Nollywood. That is the Nigerian video film industry. Nollywood first emerged nearly 20 years ago and has rapidly grown to become the third largest film industry in the world after Hollywood and Bollywood worth around $320 million a year. In terms of output, Nollywood is probably the most prolific film industry in the world with something in the region of 1500 films being churned out every year that are exported all over Africa and the world. After oil, Nollywood films are Nigeria's largest export.
Sharon Stone in Abuja – named after a famous Nollywood film – is AfricaLab's chance to pay homage to the industry. Many argue that Nollywood films are creatively redundant as they display little in the way of artistry. But AfricaLab see power and energy in these films. A code. A doorway to another reality: the reality of the African psyche, which, in many ways, is an unexplored and unchallenged terrain. Our aim in this exhibition is to unlock this code, explore the landscape, then transform and re-present it in fresh ways. Through our visual narratives we hope to reveal the psychodrama of Nigerian life beneath Nollywood's breathless and voluble hyberbole, making statements about the emotional and psychological landscape of Africa and to explore the power in the homegrown amateur aesthetics that Nollywood presents.
Andrew Esiebo: Lagos-based photographer Andrew Esiebo is one of Nigeria's leading young photographers. Andrew's sensitive and beautifully composed images have featured in international publications including Photoblogs Magazine (USA), Voiceworks (Australia), and the United Nations Global Report on Human Settlements, and in shows including the Noorderlicht Photography Festival 2007. Esiebo is a member of the Black Box photographers' collective and was recently artist-in- residence with Visa Pour La Creation, a programme run by the artistic association of the French Ministry of Foreign Affairs. For Sharon Stone Andrew has created two portraits of one of Nollywood's most unique stars: the dwarves Aki and Paw Paw. Aki and Paw Paw are not only Nollywood superstars but African superstars. Their visits to Liberia and Uganda attracted huge crowds and they are able to fill stadiums with screaming fans. Andrew is contributing a more sensual and sober portrait of these men to contrast the comic, naughty boys or gangsters they routinely portray. These painterly photographs suggest hidden passions, maturity and perhaps a hint of weariness.
Mickalene Thomas: New York-based artist Mickalene Thomas is known for her elaborate paintings adorned with rhinestones, enamel and colorful acrylics. Her depictions of African American women explore notions of black female celebrity and identity while romanticizing ideas of femininity and power. Reminiscent of 70s style Blaxploitation, the subjects in Thomas' photographs and paintings share a sensibility with Nollywood and for Sharon Stone in Abuja Thomas has created a new Nollywood photographic portrait featuring a Nigerian actress. The portrait has been contextualised in a special set created by AfricaLab and Mickalene of a – re-imagined - Nollywood living room.
Pieter Hugo: Pieter Hugo's Nollywood series is one of the first major artistic reflections on the industry. A phenomenal, brave and sometimes disturbing set of images, Hugo has challenged viewers to examine ideas surrounding African story-telling, creativity and black-white power-relations. His images created in collaboration with a Nigerian costume and set designer are not literally descriptive of Nollywood but leave you with a powerful sense of the subliminal influences of feature film and how Nollywood writes itself onto the landscape both physically and emotionally. An edited version of his stunning series appears in this show.
Wangechi Mutu: Born in 1972 in Nairobi, Kenya Wangechi Mutu is an artist who lives and works in Brooklyn. Mutu's work has been exhibited at galleries and museums worldwide including the San Francisco Museum of Modern Art, the Miami Art Museum, Tate Modern in London, the Studio Museum in Harlem in New York, Museum Kunst Palast in Düsseldorf, Germany, and the Centre Pompidou in Paris. She is represented by Barbara Gladstone in New York, Susanne Vielmetter Los Angeles Projects in Los Angeles and Victoria Miro Gallery in London. Wangechi Mutu has contributed a new video work, titled Shoe Shoe for Sharon Stone in Abuja.
Zina Saro-Wiwa: Nigerian-born film-maker, co-curator and founder of AfricaLab, Zina Saro-Wiwa, is participating in this exploration and presenting some of her own work for Sharon Stone. Obsessed with Nollywood, Saro-Wiwa's interest lies in exploring and celebrating Nollywood's visual aesthetics, the emotional landscape of Nigeria and the role of women in Nigeria and these films. Zina presents a video sculpture as well as two short experimental films that are inspired by Nollywood conventions but take them into very different territory. Born in Nigeria to Ken and Maria Saro-Wiwa and brought up in the UK, she has worked at the BBC for much of her career. For the last three years she has worked primarily as an independent filmmaker and divides her time between London, Lagos and New York.
About AfricaLab: AfricaLab is a new organization dedicated to re-imagining Africa through visual media, principally film and art. They produces films, contemporary art projects and other live events that they hope inspire people to look at the continent and her peoples with fresh eyes.
Location One is extremely grateful to The New York State Council on the Arts, and The New York City Department of Cultural Affairs and Robert Devereux and The African Arts Trust for making this exhibition possible. Thanks to media sponsor OneArtWorld.com.
ABOUT LOCATION ONE
Based in the Soho arts district of New York, Location One is an independent, non-profit organization dedicated to fostering new forms of creative expression and cultural exchange through exhibitions, residencies, performances, public lectures and workshops. Traditionally focused on technological experimentation and new media, Location One's residencies and programs have favored social and political discourse and dialogue, and acted as a catalyst for collaborations. With a unique environment providing individualized training, support, and guidance to each artist, as well as exposure for their creations and collaborations, Location One continues to nurture the spirit of experimentation that it considers the cornerstone of its mission.