Artist Talk with Zina Saro-Wiwa,
Moderated by Claudia Calirman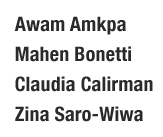 Wednesday, November 17, 2010 - 7pm
Free and open to the public
Location One
26 Greene Street, NYC
(between Canal and Grand)
Subway: Canal Street (N-Q-R, 6, J-Z, A-C-E)
Location One is proud to present a panel discussion around the exhibition Sharon Stone in Abuja by Zina Saro-Wiwa on Wednesday, November 17, at 7PM.
"Looking for Africa in Nollywood's Aesthetics" will focus on the aesthetics of Nollywood's industry and its implications in creating an African identity.
Can there be such a thing as a Nigerian film aesthetic? Is it possible to speak more widely of a black African aesthetic? Are the seeds of this unique aesthetic to be found in Nollywood, Africa's first example of self-representation on a mass scale? Or is Nollywood's "aesthetic of circumstance" something that should be abandoned as film budgets rise? What if anything does Nollywood have to offer aesthetically to the idea of African cinema? What could a future of African cinema look like? These questions and others will be explored by Saro-Wiwa and fellow panelists, moderated by Claudia Calirman.
Mahen Bonetti is the founder and Executive Director of African Film Festival, Inc. (AFF), a non-profit arts organization founded in 1990. AFF showcases works of African filmmakers and develops ways to share the vision and culture of African film with American and international audiences. In her role as film liaison, she contributes to an interdisciplinary mix of panels and programs, including those established by the Panafrican Film and Television Festival of Ougadougou (FESPACO), the New York City Department of Cultural Affairs, the Schomburg Center for Research in Black Culture, the New York State Council of the Arts, UNDP, Africa's US diplomatic offices and the Rolex Arts Initiative Awards. AFF collaborates each year with the Film Society of Lincoln Center and BAMcinématek to produce the annual New York African Film Festival.
Awam Amkpa trained as a play director/playwright/actor/scholar and filmmaker in Nigeria. He is an Associate Professor of Drama at Tisch School of the Arts and Director of Africana Studies at New York University and author of Theatre and Postcolonial Desires, (Routledge, 2003) and the forthcoming Postcolonial Drama. He is director of film documentaries such as Winds Against Our Souls, Its All About Downtown, National Images and Transnational Desires, A Very, Very Brief Story of Nollywood and the Nigerian feature film Wazobia!- written by Tess Onwueme. He is a co-curator of Photography exhibitions on African Bodies in Europe, USA and Africa. He is co-founder and co-curator of the Real Life Pan-African Documentary festival in Ghana. He is the curator of a touring exhibition 'Africa: See You, See Me' currently in Lisbon, Portugal. Amkpa has written several articles on Africa and its diasporas, modernisms in theatre, postcolonial theatre, Black Atlantic films.
Zina Saro-Wiwa is a film-maker, writer and broadcast journalist. She is also the founder of AfricaLab, an organization dedicated to transforming the way the world sees Africa through film and contemporary art projects. SHARON STONE IN ABUJA is AfricaLab's first contemporary art "laboratory". Zina was born in Nigeria and moved to Britain at an early age. She has worked as a freelance producer and reporter at BBC Radio and TV for much of her career. Through AfricaLab Zina has, to date, made three films. Her award-winning documentary This Is My Africa has played in museums and festivals all over the world. The film premiered on HBO in February of this year and was the pick of the day in The New York TImes. Her other two AfricaLab films - which are experimental Nollywood films that explore the idea of Nollywood film language - can be seen in the SHARON STONE IN ABUJA exhibition.


First there was Hollywood, then there was Bollywood and now there is Nollywood. That is the Nigerian video film industry. Nollywood first emerged nearly 20 years ago and has rapidly grown to become the third largest film industry in the world after Hollywood and Bollywood worth around $320 million a year. In terms of output, Nollywood is probably the most prolific film industry in the world with something in the region of 1500 films being churned out every year that are exported all over Africa and the world. After oil, Nollywood films are Nigeria's largest export.
Location One is extremely grateful to The New York State Council on the Arts, The New York City Department of Cultural Affairs James Lindon, Wendy Fisher, and Robert Devereux and The African Arts Trust for making Zina Saro-Wiwa's exhibition possible. Thanks to media sponsor OneArtWorld.com.
ABOUT LOCATION ONE
Based in the Soho arts district of New York, Location One is an independent, non-profit organization dedicated to fostering new forms of creative expression and cultural exchange through exhibitions, residencies, performances, public lectures and workshops. Traditionally focused on technological experimentation and new media, Location One's residencies and programs have favored social and political discourse and dialogue, and acted as a catalyst for collaborations. With a unique environment providing individualized training, support, and guidance to each artist, as well as exposure for their creations and collaborations, Location One continues to nurture the spirit of experimentation that it considers the cornerstone of its mission.