Conversation with Mitra Abbaspour
Monday, November 21, 2011 at 6:30 pm
Location One Performance Program Public Workshop Fall/Winter 2011
We invite you to join us: Monthly workshops, presided over by Jovana Stokic, Location One's curator of Performance Art, invite guest artists, critics and curators to work with the community of artists-in-residence at Location One. They provide a lively interaction and often suggest projects or collaborations that might be explored for presentation at the gallery. This month the topic addressed will be The Role of Photography: multifold relations between photography and ephemeral actions; the guest will be Mitra Abbaspour.
Mitra Abbaspour is an Associate Curator in the Department of Photography at The Museum of Modern Art. At MoMA, she leads a curatorial research initiative centered on the Thomas Walther Collection, which explores the formation of photographic modernism between the World Wars. Additionally, Mitra is and a PhD candidate in the Department of Art History at The Graduate Center, CUNY, preparing to defend her dissertation, a study of photograph archives dedicated to Armenian, Kurdish, and pan-Arab practices. She has authored numerous articles on contemporary photographers from Tracey Moffatt to Shirana Shahbazi. Recently, her focused study of a photograph of General Andranik "A Hero and a Homeland for Armenians in America: Photography's Role in the Diaspora," appeared in the International Journal of Middle Eastern Studies. Mitra served as part of a curatorial team for the exhibition Re-Orientations: Islamic Art and the West in the Eighteenth and Nineteenth Centuries, which was culled from the collections of the Metropolitan Museum of Art. She has also taught in the art history departments of Hunter College, Brooklyn College, and the University of California, Riverside.
Jovana Stokić is the curator of performance art at Location One where she supports the growth of performance art by promoting the works of emerging artists on an international scale, organizing and collaborating on events using a network of people converging at Location One. It shows a commitment to experimentation across all art forms and points to recent efforts to return performance art to its central position within the gallery system. Performances, public panels and discussions promote and seek critical discourses on contemporary performance art practice and related issues.
Location One is extremely grateful to The NY State Council on the Arts, The New York City Department of Cultural Affairs, and Location One's International Committee for making this event possible.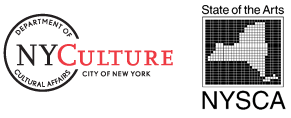 ABOUT LOCATION ONE
Based in the Soho arts district of New York, Location One is an independent, non-profit organization dedicated to fostering new forms of creative expression and cultural exchange through exhibitions, residencies, performances, public lectures and workshops. Traditionally focused on technological experimentation and new media, Location One's residencies and programs have favored social and political discourse and dialogue, and acted as a catalyst for collaborations. With a unique environment providing individualized training, support, and guidance to each artist, as well as exposure for their creations and collaborations, Location One continues to nurture the spirit of experimentation that it considers the cornerstone of its mission.