Location One is proud to present three events in December: Neuroscience and the Arts Today: Shared Interfaces, a panel discussion that explores the arts and concerns of body, mind, and consciousness, It Is My Body, a solo exhibition by Marta Jovanović, and Pier Paolo Pasolini: Portraits and Self-Portraits, a collection of drawings and paintings by the renowned Italian director. All events are free and open to the public.
Neuroscience and the Arts Today: Shared Interfaces
Location One is proud to host an evening conversation that explores the arts and concerns of body, mind, and consciousness that they share with neuroscience. PAJ: A Journal of Performance and Art, the arts publication edited by Bonnie Marranca, celebrates the growing discourse on this topic in an evening entitled "Neuroscience and the Arts today: Shared Interfaces." The discussion features contributions by visual artists, a dance therapist, a musician, an author, and a neuroscientist. Artist Ellen K. Levy will moderate the event.
Panelists:
Ellen K. Levy, a visual artist who has collaborated with neuroscientist Michael E. Goldberg, Director of the Mahoney Centre for Brain and Behavior at Columbia University, about 'attention.'

Michael Century, a musician and teacher who has focused on the artistic potential of interactive computer technologies.

Siri Husvedt has published a book of essays on painting and an interdisciplinary investigation of a neurological disorder, in addition to writing several novels.

Denis Pelli's research as a neuroscientist on Chuck Close's paintings succeeded in expanding current insights in perception.

Jill Scott, a media artist who, inspired by the work of neuroscientist Bach y Rita, has designed aids and interfaces for blind dancers and sculptures that communicate interactively with the public.

K.C. Wiley, a dancer and choreographer, has worked with Parkinson's performers to alleviate movement disorders and to provide creative possibilities through performance, in a program developed by Parkinzone in Rome.

The discussion features artists and performers who have built on recent neuroscientific knowledge, incorporating social, cognitive, or affective discoveries in their art. Some work collaboratively with neuroscientists while others work separately. All are engaged in communicating their insights about the body and mind to the general public, and many are educators. Often the work has resulted in novel therapies brought about by using knowledge of brain function and basic physiology to improve well-being. Knowledge gained in cognitive neuroscience by those working in the visual arts, dance, literature and music has amplified productive approaches to creativity, emotion, and the healing process. The reverse is also true; neuroscience sees art as an increasingly valuable resource, and its practitioners are finding ways to apply this knowledge.
It Is My Body
What happens to the body of the artist in the aftermath of the performance? This query is at the core of the sculptures, videos, and photographs by Belgrade-born artist Marta Jovanovic. Much has been said about the difficulty of preserving performance, an ephemeral medium that resists being transformed into a lasting and permanent form. But what about the performer's body: Can it be suspended in time forever? Can we prevent its aging and ultimately decaying or delay its inevitable mortality?
Jovanovic creates a silicone doll that doubles as an image of herself, an identical replica of the artist from head to toe. At first glance, this phantasmagoric, soulless object appears beautiful; however, upon closer inspection, it becomes slightly repellent, looking more like a funerary corpse than an immortal replication of the artist. As such, its disintegration becomes imminent; the surrogate doll cannot be sustained as an autonomous entity. Jovanovic's plaster casts, videos, and photographs pose a paradox: how can one's living body be dismembered and at the same time long for eternity? The fragmented cast pieces evoke surgical intervention and cosmetic surgery, but in this case, instead of beautifying the body, the process seems to have created a grotesque physical appearance through silicone and plaster casts.
Jovanovic's casts and photographs are the remains of a body that is no longer present; all that is left are the indexical traces and marks of the real. The work emphasizes the gap between performance and its subsequent representation. The disembodied parts are also reminiscent of Michelangelo's Sistine Chapel self-portrait in the sagging skin of San Bartolomeo, who was martyred by being skinned alive. They exist to remind us of the transience of the human body.
Born in 1978, Jovanovic currently lives and works in London, New York, and Rome. She received her BA from Tulane University in 2001 after attending Scuola Lorenzo de Medici in Florence. She has exhibited in venues such as the Museo Pietro Canonica and Museo della Civiltà Romana in Rome. Jovanovic has performed at Location One pieces such as Shoot Me! at the benefit for the Marina Abramović Studio in 2010 and Requiem, in March 2012, a funeral-like performance in which she created a fake wake, symbolically positioning herself inside a replica of the Pazzi Chapel in the Church of Santa Croce in Florence, where the tombs of great artists, writers, architects, and thinkers from the humanist era are located. The work proposed the equality of the sexes, which since the Renaissance has been proscribed by the church.
Jovanovic's six-and-half-foot-tall transparent resin sculpture LjubavSrecaIstina (LoveFortuneTruth) was permanently installed in the garden of the Museum of Yugoslav History in 2011. In 2012, she received the Roma Capitale from the City of Rome, an award for the highest artistic achievement in representing Serbian culture in Italy.
Pier Paolo Pasolini: Portraits, Self Portraits
December 15 to January 5, 2012.
Presented by Luce Cinecittà and Gucci.
The exhibition "Pier Paolo Pasolini, Portraits and Self Portraits" brings together 40 works of visual art – drawings and paintings – by Pasolini, including portraits of Maria Callas, Ninetto Davoli (interpreter of many of his films), Roberto Longhi (professor of art at the University of Bologna, whose passionate lectures deeply influenced and formed Pasolini as a student) and figures of everyday life. The selection includes rarely seen self-portraits on oil and faesite and newly restored drawings. "Portrait of a man", will be unveiled for the first time, after a careful restoration by the staff of the Gabinetto G.P. Vieusseux, sponsored by Luce Cinecittà.
Selected works come from the Fondo Pier Paolo Pasolini holdings in the Archivio Contemporaneo "Alessandro Bonsanti" at the Gabinetto Scientifico Letterario Vieusseux in Florence, Italy. The drawing exhibition is part of a an extensive program dedicated to rediscover the works of Pier Paolo Pasolini, including a complete retrospective of Pasolini's film work exhibited in restored and new prints at The Museum of Modern Art from December 13 to January 5th, co-produced by The Museum of Modern Art, New York and Luce Cinecittà, Rome with, Cineteca di Bologna; Fondo Pier Paolo Pasolini, Bologna; and Graziella Chiarcossi. Presented in association with the Ministry of Culture of Italy. Special thanks to The Italian Cultural Institute, New York. Supported by Gucci.
Location One is extremely grateful to The NY State Council on the Arts and The New York City Department of Cultural Affairs.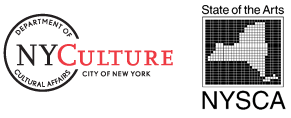 ABOUT LOCATION ONE
Based in the Soho arts district of New York, Location One is an independent, non-profit organization dedicated to fostering new forms of creative expression and cultural exchange through exhibitions, residencies, performances, public lectures and workshops. Traditionally focused on technological experimentation and new media, Location One's residencies and programs have favored social and political discourse and dialogue, and acted as a catalyst for collaborations. With a unique environment providing individualized training, support, and guidance to each artist, as well as exposure for their creations and collaborations, Location One continues to nurture the spirit of experimentation that it considers the cornerstone of its mission.