For Immediate Release and Listing
Richard Bell: I Am Not Sorry
Australia's foremost — and most controversial — Aboriginal artist exhibits his work for the first time in New York
A Location One International Fellowship exhibition curated by Maura Reilly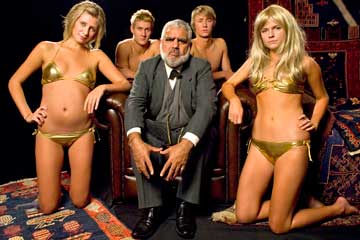 Scratch an Aussie #1, 2008
OPENING RECEPTION:
Thursday, 8 October 2009, 6–8 PM
DATES: 9 October 2009 – 25 November 2009
HOURS: Tuesday-Saturday 12–6 PM
Richard Bell, Australia's leading Aboriginal artist, and one of his country's most controversial creative talents, will exhibit new and old work in his first-ever US exhibition, "Richard Bell: I am Not Sorry," which opens October 8th at Location One.
The harmonic drawings, also included in the exhibition, are similarly created by a machine that operates within a narrow band of parameters. The artist sees these 'throws' as a series of temporary, transient drawings in which the illusion of three-dimensionality is created through line, forking and arcing at random. Both mechanisms divorce the artist's hand from the process of art-making and instead put in place a series of variables, sometimes predictable, sometimes arbitrary.
The exhibition, which is curated by Maura Reilly, is a centerpiece of the Location One International Fellowship awarded to Bell for the 2009 – 2010 season, which he will spend in New York, creating new work and exploring new creative directions under Location One's auspices.
Brisbane-based Richard Bell is one of Australia's most talked-about artists. Bell's works address — and protest — the commodification of indigeneity in the western art market. They draw attention to frustrations and grievances brought about through the European colonization of Australia. His paintings play with the practice of appropriation, often mining the Pop Art styles of Roy Lichtenstein and Jasper Johns, the paint drips of Jackson Pollock, or the dot matrix style of Aboriginal painter Emily Kngwarreye while including texts that complicate the way we think about racism and race politics.
Aboriginal Art—it's a white thing (2002), included in the exhibition, is one of the artist's famous 'Theorems', in which he accuses the contemporary art world of manipulating and exploiting indigenous art. In his most recent 'Theorem', titled Pay the Rent (2009), Bell demands of the colonizers that they pay in back rent what they owe to the colonized Aborigines since 'the invasion' in 1788. Likewise, in a provocative recent video, Scratch an Aussie (2008), Bell plays reversal politics by charading as a black Sigmund Freud who psychoanalyzes racist white Australians. The exhibition will also feature a new video Broken English (2009) in which Bell plays chess with indigenous politics, asking white and black Australians why Aborigines appear to lack a vision for their own future.
About Location One
Based in the Soho arts district of New York, Location One is an independent, non-profit organization dedicated to fostering new forms of creative expression and cultural exchange through exhibitions, residencies, performances, public lectures and workshops. Traditionally focused on technological experimentation and new media, Location One's residencies and programs have favored social and political discourse and dialogue, and acted as a catalyst for collaborations. With a unique environment providing individualized training, support, and guidance to each artist, as well as exposure for their creations and collaborations, Location One continues to nurture the spirit of experimentation that it considers the cornerstone of its mission.
###
Media Contact
For further information on this exhibition or Location One, or for images or interviews, please contact Steve Cukierski at 212-334-3347 or via email at steve@location1.org